Looking for a Piano Teacher in Baltimore?
Special Limited Time Offer for New Student Registration!
Kubota Music Studio is located in Mount Washington/Pikesville area in Baltimore.
Available days:  Sunday, Monday, Tuesday, Wednesday, Thursday, and Friday.
Schedule will be filled by first come and first serve!
Schedule for a free trial lesson now!
If you register to continue lessons before 9/30/18, you will get free registration fee and $5 discount lesson fee rate throughout a year from September.
Which means you will save more than $240  per year.
It is a great value!!
I am looking forward to see you soon!
Regular Fee                Campaign Price for new student who registered by 9/30/18.
$40/30 min.           →$35/30 min.
$50/45 min.           →$45/45 min.
$60/60 min.              →$55/60 min.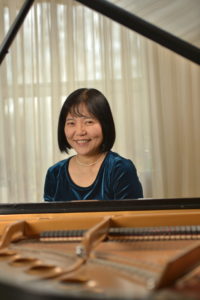 Instructor: Yoshie Kubota, M.M.
Master of Music degree in Piano Performance
NLP Practitioner
Languages Spoken : English and Japanese
More than 35 years of teaching experience.
Very warm and comfortable lesson atmosphere.
★Lesson curriculums are designed for each individual students. (Each student is unique and has different learning pace. My goal is to help them get their life lasting joy of playing the piano, for both physically and mentally. )
★Lots of performance opportunities in different settings(both formal and friendly settings) and will build up students' performing experience and strength.
★Students will learn and develop step by step for finger techniques, reading skills(understanding rhythms, notes, articulations, dynamics and phrasings), and fundamentals of music theory as well as bring out their musical expression, and how to use their body(how to relax your body when playing the piano), how to produce a nice and beautiful sound throughout from the beginner level to advanced level using well balanced method books and technique book + various musical repertoires using piano literature books for many different styles and different composers' works.
Private Piano Lessons: ages (4 ~ Adult) from Beginners to Advanced.
Students can gain lifelong skills to play the piano in the very warm and mentally supportive learning atmosphere. Students have lots of opportunities to perform at student recitals, Royal Conservatory and National Piano Guild grade testing and competitions (her students have won 1st prize in the competitions in the past) if they are willing to participate.
Read more about course details
Testimonials
She is really nice. She gives comments in a nice way. She is positive. I love her lessons and I like getting prizes at the end. She is really good at playing the piano.
by Yumi D.
She makes me feel like I can do it. I really like studying with her!
by Seiji D.
We got very good friends who love piano at Kubota Music Studio and they inspire each other. This environment makes my kids stay motivated and accomplished! I really thank Ms. Kubota!
by Maiko D. (Yumi and Seiji's Mother)
---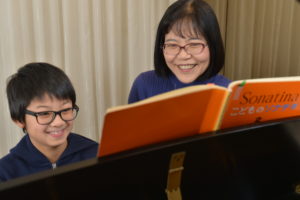 When I performed at my School Talent Show, I got big Bravo! and I felt really happy and proud of myself! And I became more confident after I challenged and passed Royal Conservatory exams!
by Tachi I.
---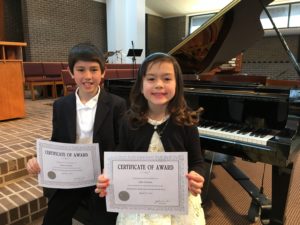 At first I thought piano wouldn't be that fun or interesting, but now I think it is fun, and I want to get better!
by Takaya N.
Piano is awesome because you get to do many cool stuff. I love my teacher. She is the best!! 🙂 I wish that I can do piano for my whole life!! I want to be good at piano when I grow up!!
by Aiko N.
---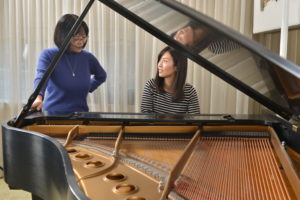 At first, my daughter was taking lessons with Ms. Kubota.
While I was watching her lesson, I got to be fascinated by her warm and pleasant lesson style and I also got inspired to take piano lessons for myself for the first time in 16 years again!
I can tell I am progressing every lessons, and I am very satisfied about her lessons because she is very flexible and I'm able to proceed in accordance with my wish, practice environment, and individual level and pace.
It is a nice refreshing time for me beside parenting my kids and I am very thankful to Ms. Kubota who gave me a chance to re-taking piano lessons again!
by Eri N.
---
YouTube Channel
from Student Recital
---
Location: Mount Washington, Pikesville area in Baltimore.
Kubota Music Studio is located in the very safe and quiet/calm area of Mount Washington and Pikesville neighborhood in Baltimore, Maryland, U.S.A.
There is the Irvin Luckman Memorial Park (include walking pathway, tennis court, basketball court, children's playground) in front of Kubota Music Studio and students can enjoy the park before or after their lesson.
Students can use a world class instrument of New York Steinway Ground Piano at their lessons from the very first lesson.
At the waiting area, there are toys and books for siblings while they are waiting their brother or sister, and also you can use free Wi-Fi.


Register now!! and Save Big!!
or send e-mail to