Instructor: Yoshie Kubota, M.M.
Master of Music degree in Piano Performance
NLP Practitioner
Languages Spoken : English and Japanese
More than 35 years of teaching experience.
Very warm and comfortable lesson atmosphere.
Teaching philosophy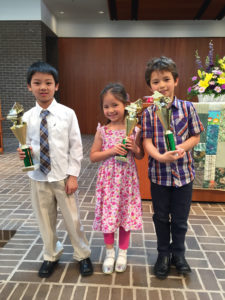 ★Lesson curriculums are designed for each individual students. (Each student is unique and has different learning pace. My goal is to help them get their life lasting joy of playing the piano, for both physically and mentally. )
★Lots of performance opportunities in different settings(both formal and friendly settings) and will build up students' performing experience and strength.
★Students will learn and develop step by step for finger techniques, reading skills(understanding rhythms, notes, articulations, dynamics and phrasings), and fundamentals of music theory as well as bring out their musical expression, and how to use their body(how to relax your body when playing the piano), how to produce a nice and beautiful sound throughout from the beginner level to advanced level using well balanced method books and technique book + various musical repertoires using piano literature books for many different styles and different composers' works.
Yoshie Kubota's Biographie
Over 35 years of teaching experience.
Her students have won competitions and awards.
Yoshie Kubota has been teaching private piano lessons since 1984 and she also has taught for group piano lessons for Pace Kinder music and Eurythmics class in NY and NJ.
She also have served as judge for several Piano grading event, festival and competiton.
Yoshie is also a freelance piano accompanist.
---
★Yoshie is a BMTA(Baltimore Music Teachers Association,Inc.) Executive Board Member since 2008 and 2nd vice president of BMTA since 2010, 1st vice president since 2018 to present.
---
She has appeared on Radio FM Osaka, FM Kochi and performed in major cities in Japan, including Tokyo, Osaka, Nagoya, Chiba, Kochi and Kyoto.
In the United States she has performed in CA, OH, DC, CT, WV, PA, NJ, MD, NY include at Lincoln Center.
---
Yoshie has received a Master of Music degree in piano performance from the Mannes College of Music (New York City) in 1990.
---
Her main teachers include Grant Johannesen, Toshiyuki Fukumoto, Tsugiko Oshibuchi, and Katsuko Fukumoto.  Yoshie is one of the founder and a member of a chamber group"Baltimore Canon"since 2006.
---
Yoshie started to compose her original music since 2006 spring. One of her song "The Eternal Wind" is used in several films include a movie Finding Tonio by MirageProductions in 2008. She composed an official theme song titled"Memories of Tales Runner" for the Game called "Tales Runner" in 2009.
Yoshie's 1st Instrumental Album is now available on CD at CD Baby. Please check it!!
♪Yoshie Kubota's  performances on YouTube.